Name:2.4" Digital Door Viewer (GW601B-2BH)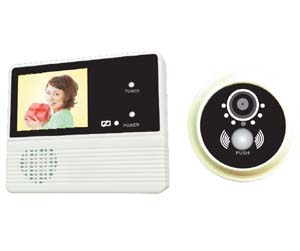 2.4" Digital Door Viewer (GW601B-2BH)
Product selling point:
2.4 inch LCD screen
Approval certificate:CE,FCC,RoHS.
Low power consumption: 2xAA batteries support 1500 peeps
and no standby power loss.
Volume can be adjusted;32 ringttones can be selected.
Reminding the user to change new batteries when battery power is low.
Convenient installation, replacement of the battery without removing the host and cat's eye, direct open the host plane battery cover.
Using the digital camera chip and mobile phone lens, 300000 pixels, much clearer image, and with six IR LED, good night vision.
Easy operation: just press the button (image displayed immediately,video automatic switched off in 15 seconds),so convenient for children and the elderly.
15S automatic shutdown, users need not worry about battery runs out quickly if forgetting shutdown.
No shadow can be seen from outside, so as to protect privacy of the house owners.
Quick start:just push the button, without waiting, image displayed immediately.
Resolution image: 240*RGB*320
Camera pixels: 300000
View angle: 90 degree
Door thickness: 35mm-75mm
Fits hole rang:14mm
Power Supply: DC 3V 2 PCS AA batteries
Power consumption: ≤0.6W
Size of host: 100mm×82mm×18mm
Size of camera: Φ60mm×15mm(H)×48mm(L)
Weight: 178g(no batteries)
Meas.: 145×100×75mm
Package:52x30x39.5cm 50sets/carton
Package includes:mainframe x1, camera x1, ejector sleevesx2, manualx1, screwx2.